Experiencing a blowout at The
Drybar has been on my list for some time– I mean who wouldn't want their hair professionally styled before an event, big meeting or date night?
So often I've seen friends with swoon-worthy hair, credit their gorgeous locks to getting a Drybar blowout that day – or in some cases– a few days before that.
And while I've used a few of their products for while, I've never actually had the opportunity to step foot in one of their salons. So I was super excited when I was contacted to attend the Grand Opening of the new Summit, NJ location! 
I grabbed one of my oldest and bestest and headed out for a little Friday night pampering!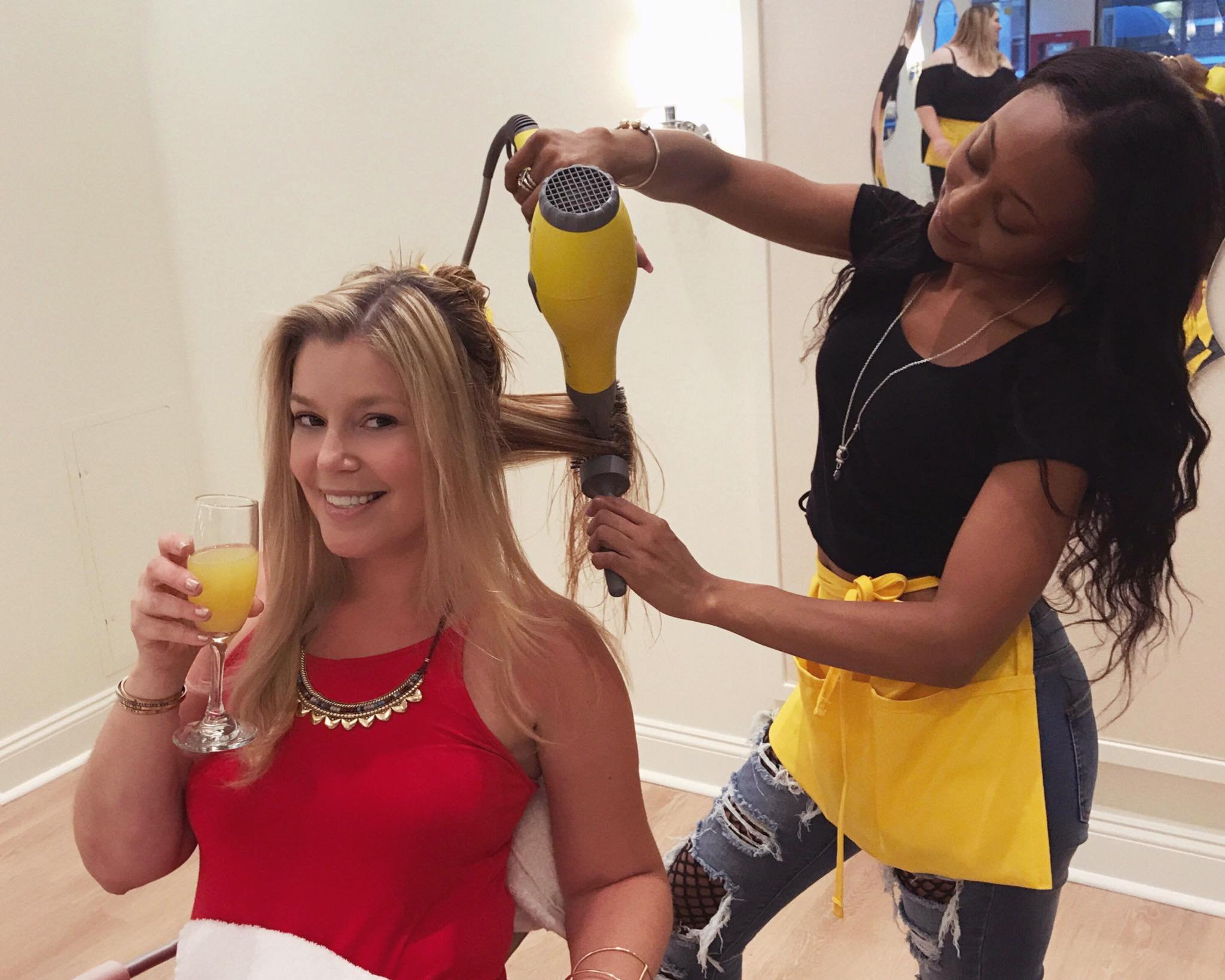 My stylist Melody was as bubbly as this mimosa and just all around awesome. If you're visiting the Summit, NJ location– ask for her!
From the welcome mat complimenting your shoes, to the bright yellow and white decor, I knew as soon as I walked in I was going to be hooked because if "Me time" and "Girl's Night Out" had a baby it would be The Drybar. They've truly thought of EV.ER.Y. THING – even USB outlets at every chair… which yes, this blogger gal noticed super quick.
And while amongst my NYC friends, I may very well be the last person they know to hop on the Drybar train, as the brand continues to grow and expand  (now over 40 locations and counting!) there are still a lot of us who have yet to experience (and in some cases heard of ) this holy grail of good hair days– so I thought I'd share with you a few things you might want to know before your first Drybar visit.
---
10 Things You Need To Know Before Your First Visit To The Drybar
Everything is "bar" themed
When you grab your seat at the bar you will notice that everything from the hair products to hair styles is themed around cocktails and mocktails
. The branding is truly genius and speaks to you right away!
---
Complimentary drinks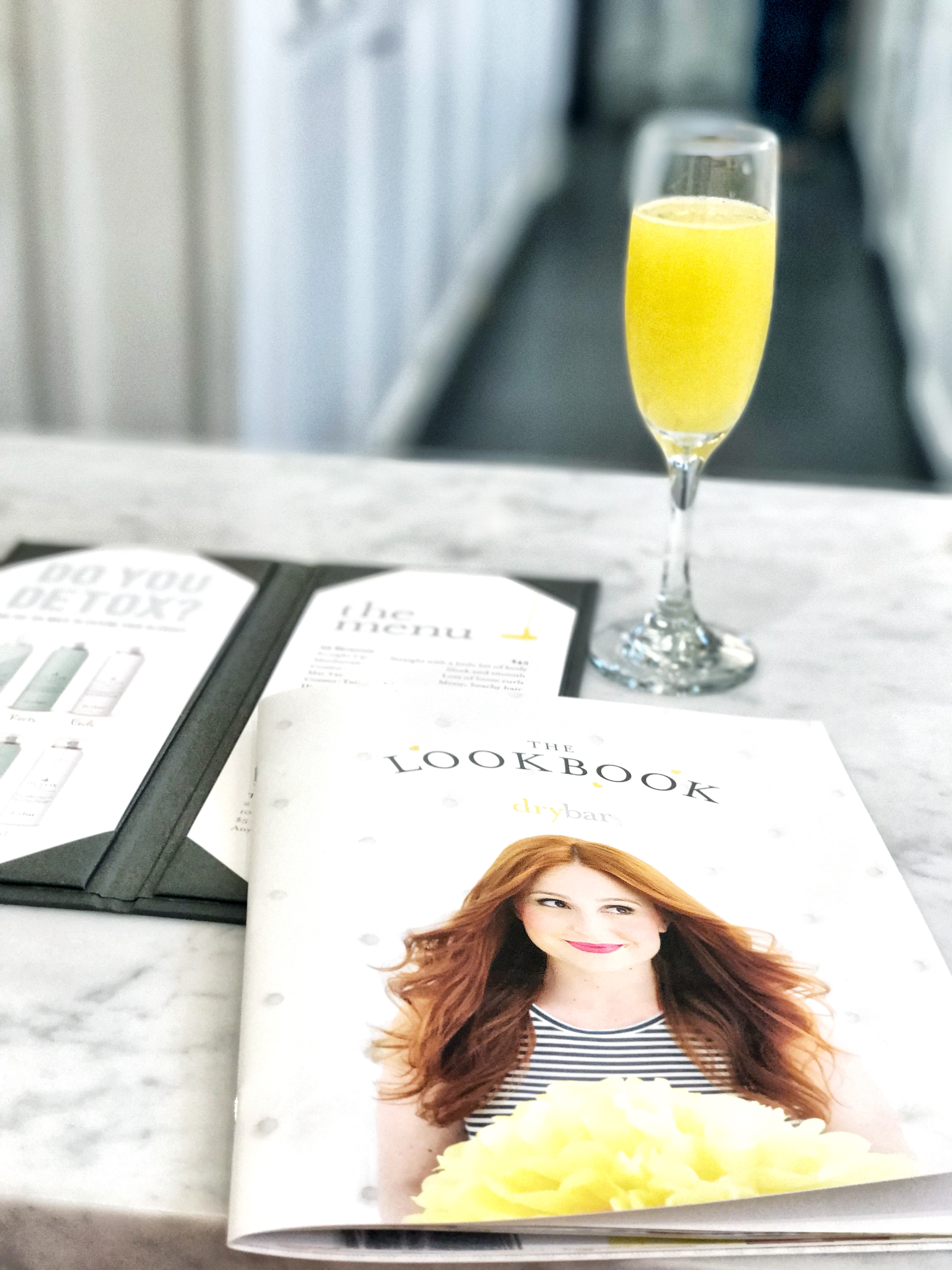 To make your experience extra sweet, upon checking in at the front desk, you are offered complimentary drinks! Whether there are alcoholic options or not depends from location to location, butI can tell you that the Summit, NJ Drybar offered mimosas, champagne, and white wine!
---
Style menu is short, sweet + no-fuss

The style menu consists of 7 popular blowout styles + a few fun braided styles (perfect for summer!) all starting around $45
The choices are all beautiful and the menu has just enough variety that there is something for everyone and every occasion, and yet simple enough that it is not overwhelming (for those like me who struggle with too many options. I'm a LIBRA. What can I say, every decision feels life or death).
My friend and I both chose the Mai Tai.

---
They have a menu for kids too!
In addition to their regular menu, they have a "Shirley Temple" menu consisting of 4 or 5 styles for kids! I know my daughter would go bananas for this. It's the perfect girly-girl treat for parties, special occasions or a fun Mommy and Me day!
---
Hair washing is included
Getting your hair washed at the salon is the most relaxing part of any salon visit, am I right?
Each blowout at the Drybar includes a hair wash and conditioning treatment that is a custom "cocktail", tailored to the individual needs of your locks.
So for instance, I have a lot of light blonde highlights that can sometimes turn a little brassy over time, so my stylist, Melody used Drybar's Blonde Ale Brightening shampoo and conditioner.
Which brings me to my next fact….
---
All of their products are Ahhh-mazing– for realz
As I said in the beginning of this post, I've used some Drybar products prior to my visit– namely, the Mai Tai Sea Salt Spray and Dry Shampoo– both of which I love and highly recommend.
But until my visit, I had never even considered or heard of some of the others that were used on me. Each top notch with a swoon-worthy scent– and that brightening shampoo?? It is THE BOMB DOT COM, you guys.
Not kidding.
The first thing my husband said to me when I came home was "They color your hair there too? Your hair looks lighter". Then after posting photos on Facebook and Instagram, I was contacted by several people complimenting my hair color– my hair color that is about 5 weeks old, you guys!!
Here are a few of the favorites I've found so far:
---
Travel size products available at the "Minibar"
There are travel sized products
available at the "minibar" and in addition for being perfect for travel,  they are perfect to purchase to try out at home, if you're like me, you find yourself having a hard time deciding which product(s) to invest in first.
---
Complimentary umbrellas on rainy days
Although some styles are more "rain friendly" – like braided up-dos and messy Mai Tais– the dry bar does include a complimentary umbrella to save the day & your hair.
credit: Tumblr
---
There is a monthly club that can save you $$$
If you have special events multiple times a month or are just blowout obsessed, you can sign up for a "BarFly membership" which can save you money on month on your blowouts + gives you perks– like 10% off products + Free birthday blowout!
---
They have a private room for groups
Now this may vary from location to location, but the Summit, NJ Drybar has a private room for groups that is spacious and includes a gorgeous tuft wall– perfect for your post styling selfie!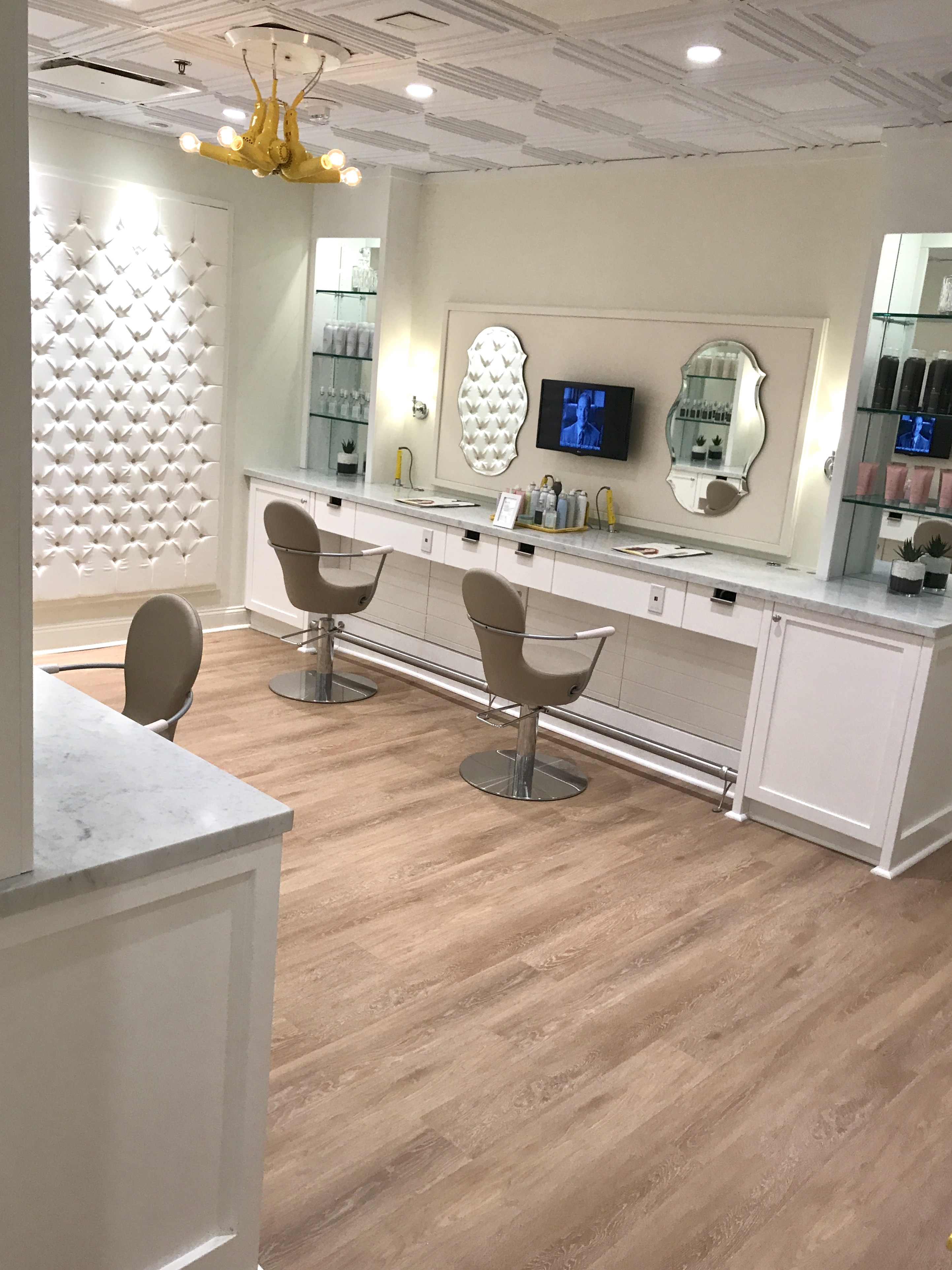 ---
Disclosure: I received a complimentary blowout at the Summit, NJ location