These Disney Cruise tips are things I wish I had known on my first cruise and I've updated them for 2019-2020 cruisers! They elevate the cruise from amazing to unforgettable. So read on and don't forget to pin this post so you can find it later when you plan your Disney cruise!
I LOVE Disney Cruises!
There is nothing like a Disney Cruise and I am sooo excited to say we are planning our THIRD (and this time with friends! Cannot wait!)
I've written about our experience onboard the Fantasy and Dream here on the blog and have posted a few (ok– a lot) of our Disney Cruise pictures on Instagram too, but one thing I've yet to do, but have been meaning to for quite sometimes is share the Disney Cruise tips and secrets that we found to be total game changers– because as with any Disney Vacation, a little insight and planning can go a long way!
So now being a two-time Disney Cruise Line veteran, I finally sat down and put it all in one post!
Enjoy!
---
Disney Cruise Tips And Secrets
Here are all my tips and hacks in one post. Follow all of them and you'll have a seriously magical experience!
1. Join Your Sailing's Facebook Group
I have no idea if this even existed for our first sailing but we found it for our second and it was great to be able to connect with other families sailing and post questions to see what others were planning for excursions, etc.
These groups typically also organize things like wine tastings, meet-ups and a "Fish Extender" program– which is a lot like a Secret Santa where you leave each other small inexpensive Disney themed gifts. We did not participate in the Fish Extender
program but I know people who have and said their kids had a lot of fun finding surprise gifts waiting for them at their cabin door.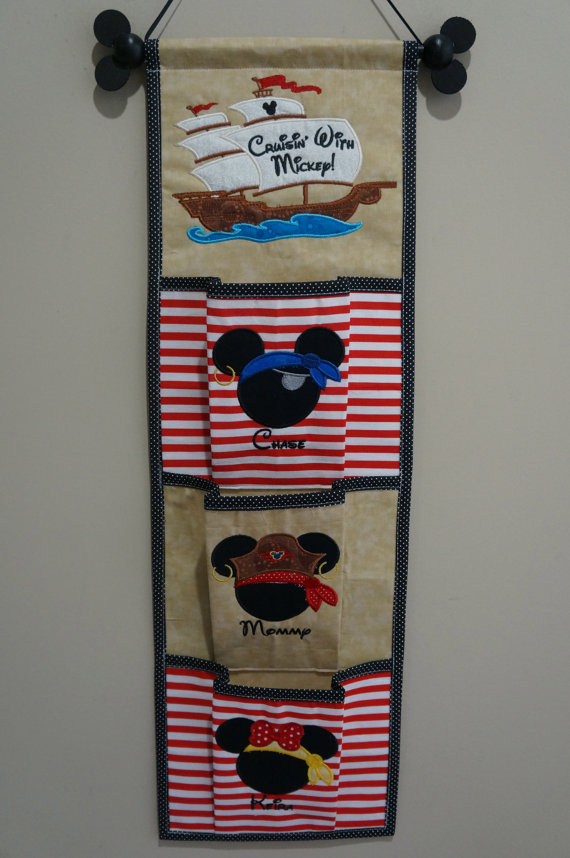 The Facebook groups are not an official Disney group and you can be as active or inactive as you want, but it is definitely a great resource to keep on top of all the planning and prep. You can find the group usually by searching something like "Disney Cruise NY-San Juan Magic November 2016"
---
2. Personalize Your Cabin Door
Get personalized cabin door magnets like these here->  Disney Cruise Mickey Door Magnets 
This is something we totally had no idea about the first time around. Die-hard Disney fans and cruisers go all out with their magnetic cabin doors. It's a lot of fun to see how everyone personalizes them with magnets showing off their past cruises and favorite Disney Characters. People really get creative!
Decorating the cabin door also goes hand in hand with those fish extenders. You can make your own cabin door fish extender or purchase them along with magnets one on Etsy!
---
3. Pre-order Pins To Trade In Bulk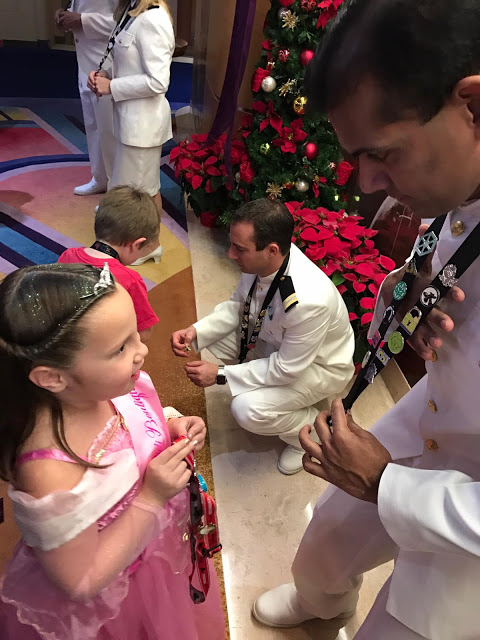 From a young age, our kids have been big on pin-trading with cast members and other kids when we go on Disney vacations. It gives them something to always be on the look out for and in some cases can keep them excited when waiting on lines for characters, etc.  but buying pins can get costly in Disney stores (usually around $12.99 and up for a small set of 3?).
We were given the tip of purchasing bags of them for $25 on Amazon and Ebay from a fellow cruiser on our first sailing and it totally paid off! We purchased 50 for a fraction of the store cost and split them up between all of the kids we were sailing with.
Available on Amazon 
The other plus side to ordering in bulk is a lot of the time you get pins you don't mind trading them. When you purchase them you usually buy ones your kids really love and don't want to part with. Remember: The fun of it is hunting down and finding ones that wow-them.
We were surprised at how into it the older kids (11/12 years old) got into it– you just never know what will be a hit or miss with middle schoolers– but they had a lot of fun with it!
Also- when you board everyone is given a lanyard to hold your room key, we had our kids use this lanyard to hold their pins instead of wearing two– so no need to purchase a special one for pins!
---
4. Register For Kids Clubs  & Special Character Meet And Greets Before Your Sailing
You can register your kids for the kids club at any time during your cruise, but it is definitely easier to get it out of the way and do it ahead of time online vs. having to wait and registering them at the Kids Club where other people are dropping off and picking up.
When you register online, you are able to get your kids Mickey bands along with your key to world cards right at embarkation! Easy peasy!
There may be special character meet and greets and other limited guest happenings you need to register for in advance, so be sure to stay on top of that.
For our sailing, we had a princess meet and greet and a Frozen meet and greet that we signed up for. There are TONS of meet and greets you don't need to sign up for and lines aren't crazy but this just makes it a little easier.
Our last sailing was also the first Merrytime Christmas cruise, so they built GI-NORMOUS gingerbread house in the main lobby area and there were tickets you could have signed up for to help decorate it– which we regrettably missed!
---
5. Prep Your Carry On Bag With Essentials
Embarking is pretty seamless but it can take a little while for all of your bags to arrive on day one. So it is always a good idea to be prepared with essentials (like a change of clothes, sunscreen, flip-flops) that you may need in the first few hours on board.
---
6. Download The Navigator App
The Navigator app is pretty amazing.
This Disney Cruise app will give you a run down of all the day's activities and also allow you to keep in contact with friends and family on the ship.
When you board or while you are waiting to board, download the app and set it up with all of the people in your group so that you can continue to communicate via "text" on the ship while you don't have cell phone service. There are fun Disney emojis with the Navigator app, which I added ahead of everyone's name when putting them into my contacts.
Texting via the app was SO much easier that trying to use the room's wave phones– which you have to use the old school AAABBBCC type texting from years ago– which felt completely foreign to us on our first cruise. You would cry laughing if you saw our lame attempts to text via the wave phone because neither of us could remember how to space words. So our texts looked like "WeAreByThePoolMeetUsAt12". It's funny how quickly things like that, that use to come so easy are quickly forgotten.  The wave phone is still needed for the kids club and day care to communicate with parents but thankfully, you don't need to use it for texting!
---
7. Pillowcase or Picture frame For Character Signatures
Available via Teeny Tiny Fashions on Etsy
If you bring a blank pillowcase, autograph book or picture frame with mat and leave it on your bed with a note, your stateroom host will be sure all the Characters on board sign it and they will deliver it back to you will all signatures.
---
8. Maximize Your MBs With This Disney Cruise WiFi Hack
Overall, I do not recommend wifi on board– like at all. I had to purchase a package this time around and I was floored by how quickly it was all used up when I only sent and received 10-15 texts!
That being said IF YOU REALLY NEED IT, I do have a bit of a Wifi hack to share. Here is what you need to do to make those MBs last.
Before your purchase on your phone stop by the Wifi desk near guest services and ask them for a copy of instructions on how/what apps and settings to change to help maximize your data.
For instance, if you don't change your settings every time you turn on wifi your phone may automatically try to download all of your emails. If you are like me with an inbox of hundreds of unread emails, this is a nightmare and will gobble up that data in no time without you even knowing it.
---
9. Dine Earlier With Little Ones
If your children are small, especially if they are toddlers, I recommend the earlier seating for dinner.
That being said, if your child is in one of the kids' clubs at dinner time, it's helpful to know that you can ask your waiter can send food to "It's A Small World" and the clubs also serve meals at certain times.  Just be sure to ask when those times are and if you need to have your waiter send food to the nursery, ask them before you sit down.
---
10. Castmember Tipping On Your Disney Cruise

Tips are automatically added to your final bill for four people: Your 3 dinner servers and your stateroom host. Towards the end of your cruise, they will leave envelopes on your bed for these 4 tips. You can choose to just put in a small note and prepaid voucher or add cash– though additional cash is not necessary.
Cast members who work in the Oceaneer Club and It's A Small world are not included in prepaid tips and I've heard they are supposed to politely decline any tips offered. That being said, we tipped the sitters in "It's a Small World" and they didn't turn it down– I was glad they didn't. I was extremely impressed by the sitters and they literally saved our vacation because Avery (who just turned 3 days before the sailing) was overwhelmed by The Oceaneers Club.  $9/hr and worth every.single.penny.
---
11. Take Advantage Of The Laundry Facilities
Now I know this is kind of a personal preference, but with a family of five being able to go home with suitcases of clean laundry is kind of the best feeling in the world.  There are washers and dryers onboard that I highly recommend taking advantage of at least 2 days before your final day. If you wait til the before you leave, you will no doubt run into an issue finding a free machine.
---
---
More Travel Tips
Now that you know everything you need to know about how to make your Disney cruise EPIC, here are some more travel tips for more vacation fun!