When
in Maui, restaurants on the beach are a must!  While we were on our family vacation in Maui, my sister (and babysitter extraordinaire) came along with us so that in addition to the fun family attractions Maui had to offer, we could also enjoy some of the island's romance as well.
James planned a date night for us at Marriott Resort and Spa at Wailea Beach that truly was the best romantic dinner in Maui we could have imagined– complete with sweeping sunset views right off the ocean.
Oceanfront Dining– Maui Style
When we arrived we were taken via golf cart to our table. While we drove up to our reserved table we could see a secluded table for two, oceanside overlooking the gorgeous Wailea Beach.
Wait. What? This was for us? 
Even James, who made the reservation couldn't believe it. Not another table in sight. This was all ours!!
Passers-by looked on from a distance as we were seated, prepared with cameras in hand. What were they waiting for? I felt like a celebrity couple being watched by the Paparazzi.
After we were seated a group of teenagers ask our server "Did she say yes??"  They had apparently seen him setting up the table earlier and thought we were getting engaged!  We turned around and told them, that I had… but about 7 years ago.
I could totally understand why they had assumed he was going to propose. The setup and experience would make for the most romantic Maui proposal ever– or even a great honeymoon dinner for couples vacationing in Maui!
From start to finish, the dinner was a first class dining experience.
Our server for the night was the sweetest man ever. He stood off to the side throughout the meal, as not to interrupt us but let us know he was there for anything we may need.
Our first need was of course photos to capture this breathtaking moment. He graciously offered to take the zillion and one pictures we wanted to take, even giving us some tips on where to stand for the best shots of sunset, etc.
These photos are not photoshopped in any way, my friends. No filter. The view was just amazing.
The custom menu that James had chosen for us was printed out on individual scrolls and sat on the top of our place setting. The menu listed a parade of food that was all delicious (not to mention extremely filling!)– four courses to be exact– including an appetizer, salad, seafood dinner and Kona coffee layer cake! 
The lobster mac and cheese was heaven and it only got better from there. Thankfully, each course was spaced out nicely so you could enjoy each course and spend time talking and taking in the view.
After dinner, we walked around the Marriot property– which is stunning all lit up at night. The dining experience we had is also private cabana-style dining offered poolside which were also beautiful.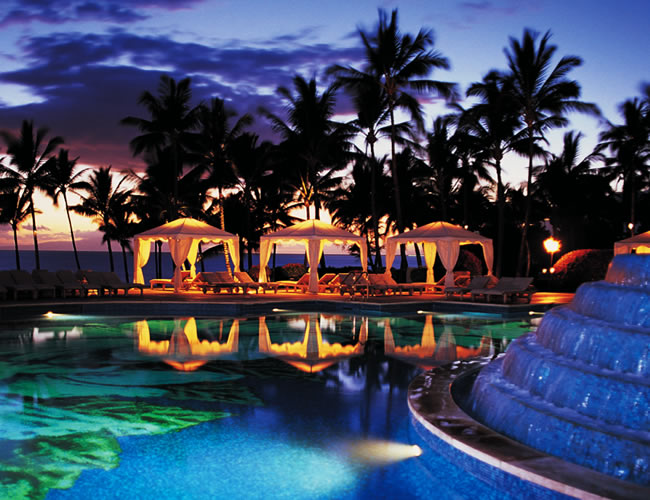 photo credit:
wailearesortdining.com
The cost of this dining under the stars experience can be pricey but for us this dining experience was a "splurge" with our American Express points–  it's true what they say, it pays to be loyal. When we travel we use Loyalty points offered by credit cards, hotels and airlines all.the.time. It can really pay off if you rack up points through the year (Hello, Christmas shopping reward!)
I am so glad James booked this private dinner because it really felt like it made our Maui vacation complete. It's absolutely perfect whether you are looking great spot for a Maui proposal … or like us, fall in love all over again.
---
---
Originally published April 20, 2012. Updated 2017.